URBAN AIR s.r.o.
516 61 Libchavy 83 Czech Republic
TEL./FAX +420 465 582153


UFM - 13 Lambada
UFM - 10 Samba
---

Fotogalerie
Welcome to URBAN AIR and to our family of Lambada aircraft.
UFM-13 Lambada and UFM-10 Samba are a two-seat, fully-composite microlight aeroplane, designed for economical touring, pilot training and sport flying. UFM_13W is pure glider.
The Lambada family represents a new generation of outstandingly beautiful and aerodynamically efficient light aircraft, which offer exceptional quality, performance, and value for money. The aircraft´s advanced structure and design puts it at the forefront of this rapidly developing field of aviation.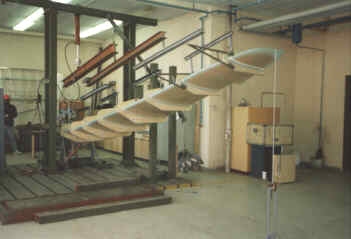 In May 1996, the prototype UFM-13 was submitted to a rigorous program of flight tests and load tests, which included testing the wing to destruction (up to + 12 "G") at the Aeronautical Engineering faculty of Brno University.
All of the composite components are built in high quality moulds, thus ensuring a much higher standart of accuracy and finish than is obtainable with any other method of construction. The materials used (imported glass and carbon fibre epoxy laminate of aircraft manufacturing grade) guarantee uniform qualities of strengh and lightness.


Tests the aeroplane successfully passed the wing loading test carried out at the Aeronautical Engineering faculty of Brno University.



The wing-flaps, ailerons or flaperons and the elevator all feature automatic self-aligning connectors, which greatly facilitate quick assembly and de-rigging of the wings and tailplane. The wing spars are reinforced with carbon fibre and reguire no struts. They locate into each other and into the fuselage with great precision and are locked in place with just one steel pin. The whole operation is designed to be extremely simple and performed in a few minutes without tools. Once dismanted UFM aircraft can be easily transported on a special trailer, with the wings supported alongside the fuselage. The laminar wing profile SM 701 gives high performance in all phases of flight
A monocuque shell structure has been adopted to provide maximum strength-to-weight ratio and a streamlined form of exceptional smoothness and high-gloss finish, which accounts for the very low drag of this plane. The fuselage is largely tubular in section with several annular bulkheads, and the wings are a combination of a sandwich shell and a beam. The number of parts not contributing directly to the structural strength has been minimised e.g. even the seats form an integral part of the fuselage.
The load test program was based on the Czech UL-2 regulations, howeveer, due to the aircrafts high performance, several tests were carried out to the more demanding standards of JAR-22 and JAR VLA. Specifically wing gust loading and undercarriage load tests, among others, were proved at hte higher standard. The initial arrangement of composite lay-up was calculated manually. Then a three-dimensional computer model of the wing and fuselage was created and used for the finite element analysis of static strength using the computer program MSC/NASTRAN.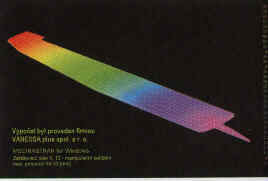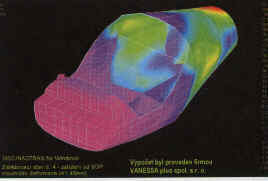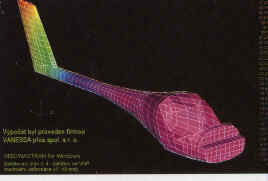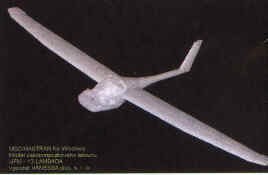 The basic design and detailed structure were the responsibility of Pavel Urban and his colleagues Karel Faltus and Milos Mladek. The aerodynamic design and calculations were the responsibility of Mirko Musil, who unfortunately died at the end of his work. We are very grateful for his help and would honour his memory.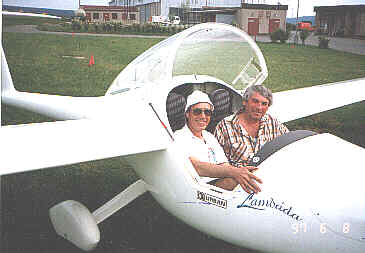 Stress calculations were carried out by

Mr. Kabrt and his brother, from Vanessa Air Ltd.,

who also completed some of the aerodynamic calculations. Some of the most modern computer methods of finite element analysis were employed in the successful load testing program at Brno University.
Milos Mladek and Karel Faltus in&nbspthe&nbspLambada prototype
---
The aeroplane design and production technology ensure :
exceptional flight performance
economic operation
perfect skin finish
composite parts are easy to repair in case of demage
low maintenance costs
quick and effortless two-man de-rigging and re-asembly
equipment customised to your wishes
---
"UFM" NEWS


It is four years since the prototype flew and we can say that each succeeding plane has incorporated valuable improvements in quality and user convenience. There about 35 UFM aeroplanes flying in 10 countries. The cockpit has been enlarged and made more sound-proof and comfortable. The fuel tank has been moved to the left wing and the main-wheel brakes are now hydraulically operated to give improved braking.




Urban Air is now in a position to offer customers the version of their choice and will shortly launch their new pure glider UFM-13W.

UFM-10 Samba

will feature a shortened low-wing, rather than the shoulder-wing used on the other models. It will be ideal for fast touring, sport flying and towing of gliders of up to 380 kg. It will have an economical cruise speed of about 200 km/h and a maximum cruise of 250 km/h. Rotax 912 or 912 ULS can be fitted.

New product of Urban Air fly now!!

UFM-13W

is a pure glider with two side-by-side seats and a glide ratio of 28:1. Urban Air are seeking Czech certification JAR 22 on Czech Civil Aviation Authority in Prag.

---

Technical Data UFM-10/13/13W

| | | | | |
| --- | --- | --- | --- | --- |
| . | . | UFM-13 | UFM-10 | UFM-13W |
| Wingspan (with wingtips) | m | 13 (15) | 10 | 13 (15) |
| Lenght | m | 6,6 | 5,9 | 6,6 |
| Height | m | 1,95 | 1,95 | 1,3 |
| Wingarea | m2 | 12,16 (12,85) | 8,9 | 12,16 |
| MTOW | kg | 450 | 450 | 420 |
| Weight | kg | 265/280 | 250 | 220 |
| Aerofoilsection | . | SM 701 | SM 701 | SM 701 |
| Rotax 912(ULS) | PS | 80 | 80/100 | - |
| Propeller - 2 /3 | m | 1,58/1,43 | 1,58/1,43 | - |
| Min. speed | km/h | 63 | 65 | 62 |
| Max.cruising speed | km/h | 175 | 250 | - |
| Max.speed in turbulence | km/h | 150 | 200 | 150 |
| Never exceeded speed | km/h | 190 | 270 | 190 |
| Max. calculating speed | km/h | 212 | 300 | 212 |
| Glider ratio | cca | 23 | 19 | 28 |
| Climbing solo | m/s | 7 | 3,5/7(10) | . |
| Climbing at MTOW | m/s | 5 | 5(7) | - |
| Climbing by tow | m/s | . | 2,5/3,5 | . |
| Min.sink rate | m/s | 1,1 | 1,5 | 0,75-0,9 |
| Fuel tank | l | 50 | 50 | - |
| Number of seats | pcs | 2 | 2 | 2 |

---

Some historical points of projet "LAMBADA"

1996 - "Gold medal" for UFM-13 at the Aerosalon Jihlava
1998 - "Gold Orchid" for UFM 11 at the microlight exhibition in Prague
1998 - September - victory in the World Microlight Cup (FTS Class) at Matkopusza in Hungary
1999 - "Gold medal" for UFM-10 at the Aerosalon Jihlava
1998 - 2. place in the World Championship UL (FTS Class) at Matkopusza in Hungary
1999 - 2. place in the World Championship UL (FTS Class) at Matkopusza in Hungary

---

Our dealers

Urban Air prepares new web pages for you with new dealer list.


---

Examination of the Lambada and trial flights are available at Usti nad Orlici sport airport by prior arrangement with Urban Air. Detailed information about the airport are published on the main (web) page of the AIRPORT USTI NAD ORLICI. .

The officies of Urban Air are in the village of Libchavy, 5 km west of Usti nad Orlici, on the road to Vamberk.


Finally ,here are some pictures of the UFM-13 Lambadaand UFM-10 Samba.

We welcome your enquiries and are ready to answer any questions yoou may have. Please contact us
via our e-mail address.

&copy Herox 01/99